WSD(T) Stainless Steel Submersible Sewage Pumps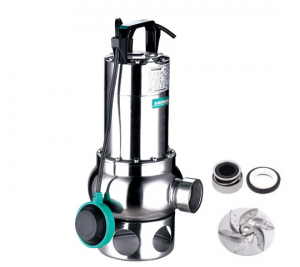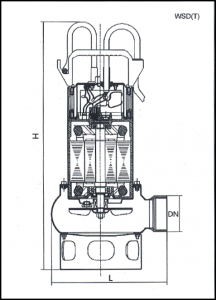 | Technical Data | RPM: N=2850 R/MIN(50hz); N=3450 R/MIN (60HZ) |
| --- | --- |
Model
Power
Outlet
Max. Flow
Max. Head
PRICE Excl.
VAT
Single-Phase
kW
HP
(Inch)
(m3/h)
(m)
WSD75/35
0.75
1
 2
22
10
Contact For Price
WSD75/50
0.75
1
2
20
9.5
Contact For Price
WSD(T) Performance Curves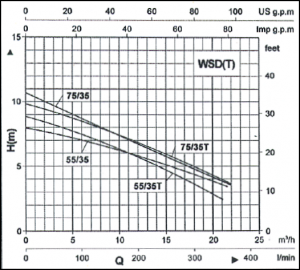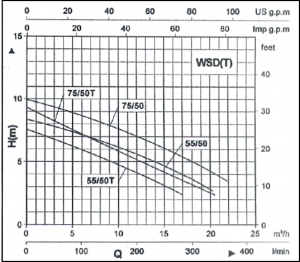 Application
All applications of pumping and draining sewage with suspended solids up to 50mm
Suitable for emptying of waste, handling of waster water and sanitary waste water.
Emptying of cesspit and draining of sewage systems
Operating Conditions
Max. submersible depth: 5m
Liquid temperature up to +40°C
Ambient temperature up to +40°C
Max. working pressure: 6 Bar
Passage of suspended solid up to 50mm
pH level from 4-10
Power frequency is 50 Hz. Voltage fluctuation range ±10%
Motor
2-Pole induction motor
Insulation: Class E
Protection: IP X8
Single phasse with capacitor and thermal protector
Feautures
External components if SS304 material which is corrosion-resistant
Whirlpool impeller with larger passage of suspended solid.
Automatic operation for the floating switch.
Application Fields

With small size and light weight, the WSD stainless steel sewage pumps(50Hz) are especially suitable for the rural wells
water pumping, farmland irrigation and drainage, garden watering, water spraying and family households,
as well as other applications such as industrial construction, aquaculture, fish ponds, etc.
Material
Pump body: Stainless steel(AISI304)
Motor Bracket: Stainless steel(AISI304)
Impeller: Stainless steel(AISI304)
Motor Shaft: Stainless steel with 45#
Mechanical seal: Ceramic-Graphite.
Copper Winding
If you would like us to send you a free quotation, or have any enquiries about any of our products and/or services,
Please don't hesitate to give us a call.
"Supplying the best pumps in Vereeniging, and the Vaal, since 1989"