Multi-Stage Sewage Pumps
Vereeniging and Vaal Triangle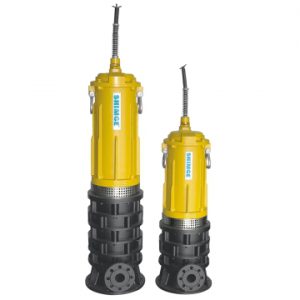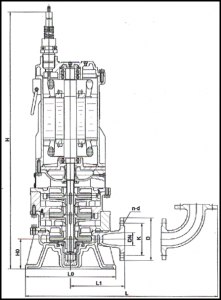 Model
Power
Outlet
Max. Flow
Max. Head
PRICE Excl.
VAT
Three-Phase
kW
HP
(Inch)
(m3/h)
(m)
WQ20-75/3-92
92
12.5
2
39
87
Contact For Price
WQ20-90/3-11
11
15
2
40
105
Contact For Price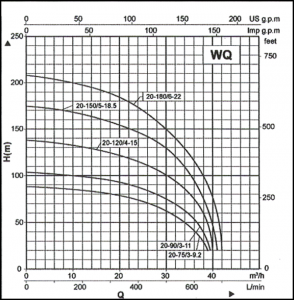 Multi-Stage pumps have different stages of pumping liquid through the components.
These pumps build pressure within the pump that moves the contents a longer distance, and are normally used in places where constant pressure and flow is required, such as industrial applications.
 Application
Commercial/Industrial use.
Drainage of sewage from the building basements, hotel. Industry waste water from factories
Pumping surface and draining water from the garages and sprinkler systems
Being equipped with a single-channel impeller
Big flow, high speed
Operating Conditions
Submersible depth: 5m
Liquid temperature up to +40°C
Ambient temperature up to +40°C
Max. working pressure: 21 Bar
Passage of suspended solid up to 12.5mm
pH level from 4-10
Maximum liquid density 1.2×10

³kg/m³

Voltage fluctuation range

±

10%
Motor
2-Pole induction motor
Three-phase: 50Hz
Insulation: Class E
Protection: IP X8
Application Fields
WQ Multi-stage sewage pumps are widely applied in industry, agriculture, mining, construction, municipal, and environmental protection, etc. They are suitable for draining water containing particles such as short fibers, paper scraps, etc. and soft solids, such as muddy water, dirty water, and domestic wastewater, as well as sewage and manure, etc. They are therefore ideal equipment for agricultural irrigation and drainage, pool silt cleaning and site construction, but do not apply to the location with explosion-proof requirements.
Features of the WQ Multi-stage sewage pumps
Large power submersible sewage pumps, the standard flange outlet.
Double channel impeller, good flowing capacity, excellent hydraulic performance.
Stainless steel shaft extension and carbide double side mechanical sealing.
Can also be used for Fire-fighting equipment from surface dams or rivers etc.
If you would like us to send you a free quotation, or have any enquiries about any of our products and/or services,
Please don't hesitate to give us a call.

"Supplying the best pumps in Vereeniging, and the Vaal triangle, since 1989"
---