SGT
SGT Centrifugal Pumps are perfect for industrial and domestic enviroments
---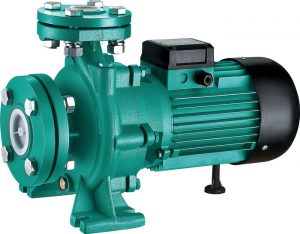 | Technical Data | RPM: N=2850 R/MIN(50hz); N=3450 R/MIN (60HZ) |
| --- | --- |
Model
Power
Inlet
Outlet
Max. Flow
Max. Head
Max.
Suction
PRICE Excl.
VAT
Single-Phase
kW
HP
(Inch)
(Inch)
(m3/h)
(m)
(m)
SGT32-160/3
3
4
2
1.25
20
35
8
Contact For Price
SGT32-200/4
4
5.5
2
1.25
20
45
8
Contact For Price
SGT32-200/5.5
5.5
7.5
2
1.25
20
58
8
Contact For Price
SGT32-200/7.5
7.5
10
2
1.25
20
70
8
Contact For Price
SGT40-160/3
3
4
2.5
1.5
30
28
8
Contact For Price
SGT40-200/5.5
5.5
7.5
2.5
1.5
38
42
8
Contact For Price
SGT40-200/7.5
7.5
10
2.5
1.5
38
52
8
Contact For Price
SGT Centrifugal Pumps Technical Specs
Application
• Clean water without abrasive particles, non – aggressive liquid.
• Domestic use, agricultural and irrigation
• Installed in enclosed places, or at least protected against inclement weather.
Operating Conditions
• Suction lift up to 8M
• Liquid temperature up to +40 °C
• Ambient temperature up to +40 °C
• Max. working pressure: 8 bar.
Motor
• 2-pole induction motor: 50Hz.
• Insulation: Class B.
• Protection: IP 44.
• Single-Phase
If you would like us to send you a free quotation, or have any enquiries about any of our products and/or services,
Please don't hesitate to give us a call.
"Supplying the best pumps in Vereeniging, and the Vaal, since 1989"